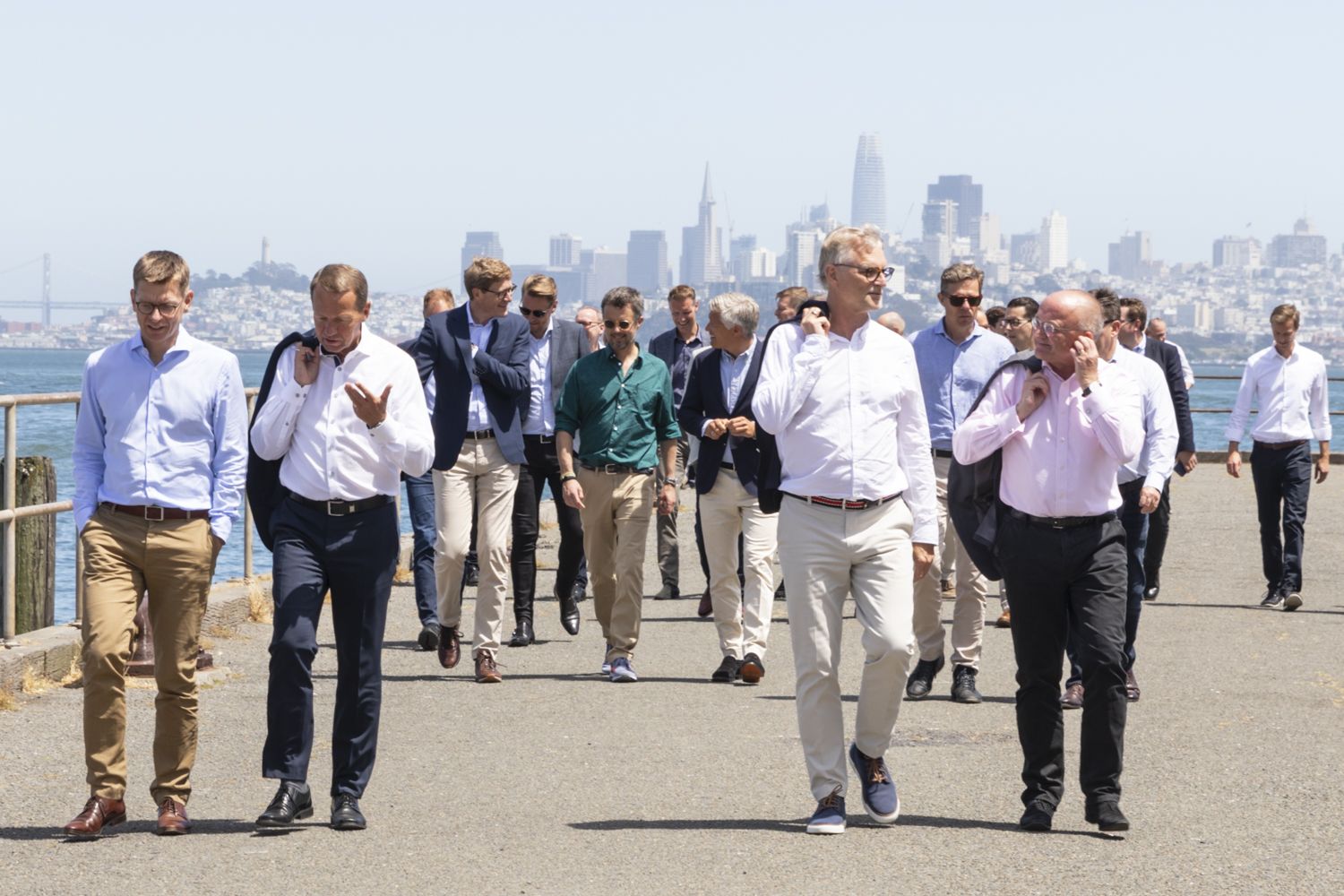 DenmarkBridge CEO-Summit 2017
DenmarkBridge CEO-Summit 2017, San Francisco, with HRH Crown Prince Frederik, with member CEO's and Silicon Valley top-level management.
As a strategic business network, DenmarkBridge aims at bridging the gap between Danish companies and Silicon Valley by creating a community, consisting of high-level strategic networking and knowledge sharing among like-minded business partners.
With an overall focus on innovation, technological development and building strong brands, some of the speakers at the DenmarkBridge CEO-Summit 2017 is:
Reid Hoffman, partner at Greylock Partners, co-founder of LinkedIn and executive vice president at PayPal. Reid took the participants on a trip down the tech alley and shared his experience on building up successful tech companies.
Dr. Condoleezza Rice is currently the Denning Professor in Global Business and the Economy at the Stanford Graduate School of Business; the Thomas and Barbara Stephenson Senior Fellow on Public Policy at the Hoover Institution; and a professor of Political Science at Stanford University. From January 2005-2009, Rice served as the 66th Secretary of State of the United States, the second woman and first African American woman to hold the post. Rice also served as President George W. Bush's Assistant to the President for National Security Affairs (National Security Advisor) from January 2001-2005, the first woman to hold the position. Rice currently serves on the board of Dropbox, an online-storage technology company, C3, an energy software company, and Makena Capital, a private endowment firm.
James 'JC' Curleigh, President at Levi's. In his position as President, he is responsible for managing the strategic direction and execution of the company's brands. With his team, he is focused on building on the brands' strong heritage by identifying new ways to connect with consumers around the world.
Marne Levine has been the Chief Operating Officer of Instagram, Inc., since 2015. Marne served as Vice President of Global Public Policy for Facebook. She oversaw Facebook's efforts to educate governments and non-governmental organizations on its plans, products and policies to foster understanding and support for innovative technologies like Facebook.
Marc Benioff is chairman and CEO of Salesforce. A pioneer of cloud computing, Benioff founded the company in 1999 with a vision to create a new kind of enterprise software company, with a new technology model based in the cloud, a new pay-as-you-go business model and a new integrated corporate philanthropy model. Under his leadership, Salesforce has grown from a groundbreaking idea into a Fortune 500 company, the fastest-growing top ten software company in the world and the largest CRM company.
Ajay Royan co-founded Mithril and heads the firm as its managing general partner. He and Peter Thiel constitute the firm's investment committee.
John B. Rogers, Jr (Jay Rogers) is CEO of Local Motors. Rogers is exploiting crowd-sourcing, innovative production standards, and an almost old-fashioned commitment to small manufacturing to create what may well be the future of the American automotive industry.
Devin Wenig became CEO @eBay in July 2015, after overseeing eBay's Marketplaces business as its President for nearly four years. Devin joined eBay in September 2011.
Dror Berman is founding partner of Innovation Endeavors, where Google chairman Eric Schmidt is chairman and investor. Dror has invested in over 100 companies from Seed through Series B that leverage cutting edge techno-logy to drive exponential human and financial impact.
William Ruh is the chief executive officer for GE Digital as well as the senior vice president and Chief Digital Officer (CDO) for GE. GE Digital, a $6B business of General Electric, provides premier digital software solutions and services for the industrial world.
John China is head of technology banking at Silicon Valley Bank. John is focused on delivering best-fit solutions, insights and connections for Silicon Valley Bank's technology clients and the groups that support them. John is constantly – and enthusiastically – making connections between entrepreneurs, investors, the Fortune 500, bankers and even winemakers. John and his team are responsible for building strong relationships within the innovation sector and helping SVB's technology-focused clients achieve growth and scalability in a competitive, global environment.