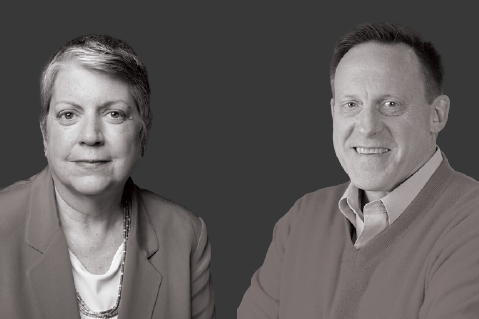 Outlook for Global Security, Economy, and Geopolitics with Secretary Janet Napolitano & Admiral Mike Rogers
Secretary Napolitano is a Professor of Public Policy and the Founder and Faculty Director of the Center for Security in Politics at UC Berkeley. In November 2020, she also joined the board of directors at Zoom. From 2013 to 2020, she served as the twentieth president of the University of California – the nation's largest public research university with ten campuses, five medical centers, three affiliated national laboratories, and a statewide agriculture and natural resources program.
Prior to joining the University of California, Professor Napolitano served as the US Secretary of Homeland Security from 2009 to 2013, where she led the nation's efforts to prevent terrorist attacks, secure its borders, respond to natural disasters, and build domestic resiliency. She is a former two-term Governor of Arizona, a former Attorney General of Arizona, and a former U.S. Attorney for the District of Arizona. In 2019, Napolitano published the book "How Safe Are We? Homeland Security Since 9/11".
Professor Napolitano earned her B.S. degree, summa cum laude, in Political Science from Santa Clara University, and her J.D. from the University of Virginia.
Admiral Rogers is a United States Navy Admiral and former Director of the National Security Agency. During his 37 years of service, he rose to the rank of four-star admiral. Mike culminated his career with a four-year tour as Commander of the U.S. Cyber Command and Director of the NSA, creating the U.S. Department of Defense's then newest large war fighting organization and leading the U.S. government's largest intelligence organization.
In these roles, Mike worked extensively with the leadership of the U.S. government, the Department of Defense, and the U.S. Intelligence community, as well as their international  counterparts in the conduct of cyber and intelligence activity across the globe. He also assisted in the development of national and international policy with respect to cyber, intelligence, and technology – including extensive work with corporate leadership in the finance, IT, telecommunications, and technology sectors.
Mike is a graduate of Auburn University and holds a Master of Science in National Security. He is a distinguished graduate of the National War College and a graduate of highest  distinction from the Naval War College. He is also an MIT Seminar XXI fellow and a Harvard Senior Executive in National Security alum.
Outlook for Global Security, Economy, and Geopolitics
During the session, Secretary Janet Napolitano and Admiral Mike Rogers had a wide-ranging  conversation about global security and evolving challenges to economic and geopolitical stability posed by climate change, cyberattacks, and emerging technologies. During the conversation, they discussed the potential short- and long-term impacts of Russia's war on Ukraine including global energy supplies, nuclear saber-rattling, and changing alliances, and the US and European political landscape.
Discussion topics included the future of globalization and trade agreements against the backdrop of the COVID pandemic, supply chain disruptions and a move away from global interdependence, and the implications of China's increasingly aggressive ambitions to supplant the US as the world's leading superpower.